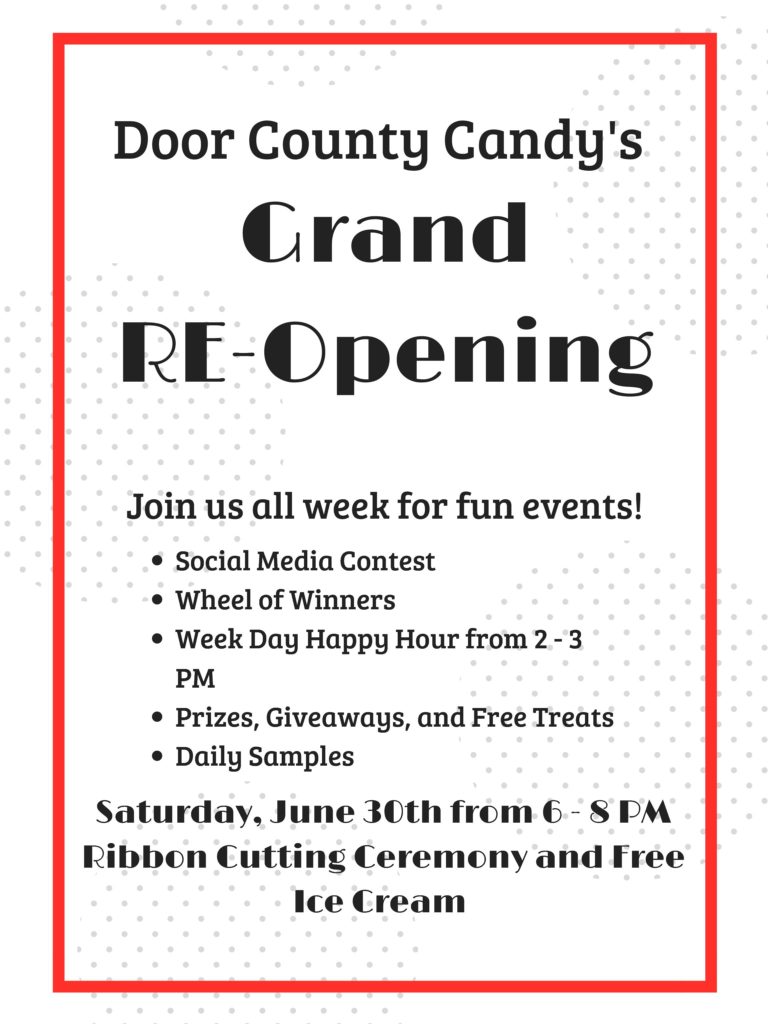 Join Us!
After a long Winter of remodeling, redesigning, and reimagining all that Door County Candy can offer, our Grand Re-Opening is finally here! We are celebrating the wonderful occasion, along with Door County Candy's 22nd Birthday, all week! Join us each day during our Happy Hour for extra fun and goodies, then stop by on Saturday, June 30th from 6 – 8 PM for our Ribbon Cutting Ceremony and Celebration!
Event Schedule
Sun. 24th – Sun. 1st        We will break out our famous Wheel of Winners! Spend $30 or more on any purchase for your chance to spin the wheel for an extra prize!
Sun. 24th – Sat. 30th      "Tag Us and Brag Us" on social media during this week for the opportunity to win a $50 gift card to Door County Candy and all the goodies it has to offer. To enter the giveaway, take a picture having fun at Door County Candy or with our treats and post it on social media! Be sure to tag us in your photo! The winner will be chosen from 6 – 8 PM on Sat., June 30th at our Grand Re-Opening / Anniversary Celebration and posted on Facebook.
Week-Long Happy Hour from 2 – 3 PM:
Mon. 25th      Earn a $5 gift card when you purchase a pound of fudge or more!
Tues. 26th     Receive a bag of our most popular gourmet popcorn with any purchase!
Wed. 27th      Get a coupon for 1 scoop of ice cream free for any ice cream cone or dish purchased!
Thur. 28th     Grab a handful of delicious Salt Water Taffy with any purchase!
Fri. 29th         Receive a chocolate covered pretzel rod with any purchase!
Sat. 30th from 6 – 8 PM      Join us for our ribbon cutting ceremony for our Grand Re-Opening! We will be giving out a free scoop of birthday cake ice cream to celebrate Door County Candy's 22nd year in Sturgeon Bay!